Title: Conception (Revised)
Author: K.S. Fish
Publisher:
Create Space
Release Date: November 2013
Buy Links
Amazon
Barnes and Noble
About the Book: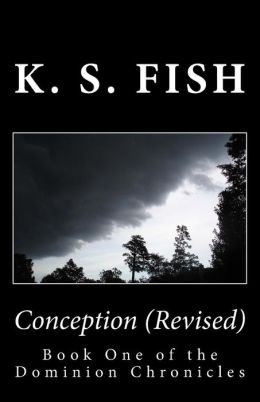 When twelve-year old Tyler Hudgens wakes up in the courtyard, he's buried up to his neck with twenty other screaming, terrified kids. Welcome to Frazier's compound, a place where Tyler and a chosen few will unlock powers in themselves that they could only dream about. Frazier has a plan to turn them into gods, and the only price is the death of 2.5 million people. When a schism occurs in their group, they're all flung into a battle that will test their loyalties and ultimately decide the fate of the world. David "Whitey" Jones is a brand new reporter, and through chance or fate, he's given the Tyler Hudgens case, a story no one else wanted. As Whitey digs for leads, he discovers The Moby Dick of all news stories; a riveting tale of mad scientists, telekinesis, and betrayal. With his eye on the Pulitzer, Whitey dives into a whole new world that may give him everything he ever wanted; or take his life. The world's future hangs in the balance, and a new world waits in the wings, on the brink of Conception.
About the Author:
K.S. Fish was born in San Diego, California. Though he was a single child growing up, he was lucky enough to have worlds upon worlds of brothers and sisters bumping around in his brain. His first short story was inscribed on his mother's uterus.However, for much of his youth, he strove to make every wrong possible choice for his life. Subsequently, it was many years until he was able to realize his gift and begin to hone his skill as a writer.His first book, Conception, amazed readers with its character driven narrative and exciting storyline.K.S. Fish resides in Georgia with many friends, his goldfish Barney, and a lifetime's worth of stories to tell.
Connect with the Author:
Facebook:
https://www.facebook.com/thedominionchronicles
Twitter:
https://twitter.com/KSFish2
Website:
http://ksfish.wordpress.com/
Goodreads: https://www.goodreads.com/author/show/6478485.K_S_Fish
Read An Excerpt:
He knocked on the door, craning his neck to look up into the window.
"Help ya son?" the driver drawled, placing his finger on the book to mark the spot he had been reading.
"Yes sir," Whitey began, unsure of how to proceed. He decided to just dive in.
"You didn't happen to pick up any hitchhikers today did you?" "Yup," the driver answered immediately. "Took a young man from practically this very spot on up to Enumclaw. I'm on the return trip from that run right now."
Whitey's heart beat a little faster. He pulled out a photo he'd printed from Hudgens' mug shot.
"Was this the guy?"
The driver leaned out the window and stared at the photo.
"Yup, that's him. He do something' wrong?"
Where to start?
"Yeah. He stole a cop car."
"Musta been that one they surrounded over yonder." The old man pointed vaguely to the west side of the
lot. Whitey looked that way, but of course there was no police car to around. They'd have taken it away hours ago.
"I thought he was actin' kind of funny…" the driver mused, talking to himself more than Whitey.
"Would you mind telling me exactly where you took him?
The driver inspected him, taking in the shaggy hair and taped glasses.
"You're a little young to be the law," he said.
"My name's Whitey Jones and I work for the Olympia Herald."
The old man guffawed. "Out chasin' the big story are ya?"
"Yes," he answered simply.
"You reckon that boy is guilty of all the the things they say?"
Whitey raised his eyebrows.
"I seen some stuff on the news." The driver answered defensively, as if Whitey had asked him a question.
"Why didn't you report him?"
The old man grinned, revealing a few missing pickets in his fence.
"How do you know I didn't?" Whitey smiled back.
"I just have a feeling."
"Hmmph. Well I had a feeling too." The old man said after a moment. He patted the book that was open on the steering wheel. "The Lord talks to me sometimes. I kinda figured them cops was after him, but he struck me as a good sort." He shrugged. "Maybe I shoulda reported him, but I didn't."
"I think you did the right thing," Whitey blurted, then blushed. "I mean…I don't know what's going on,
but it's more than it looks like, I'll tell you that. I don't know if this guy, his name is Tyler Hudgens by the way, is innocent or not; in fact I know he broke into a bank…but there's some strange stuff happening on the Ponderosa and I plan on getting to the bottom of it."
Skepticism and belief fought for control of the man's face. It settled somewhere in between.
"What kind of strange stuff?"
"The kind that could change the world,"
Giveaway via Rafflecopter:
5 Copies of Conception (Print or eBook)
a Rafflecopter giveaway
Google