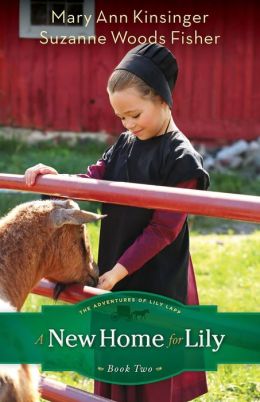 New Home for Lily, A (The Adventures of Lily Lapp)
by Suzanne Woods Fisher, Mary Ann Kinsinger
Genre: YA, Amish, Christian, Children
Publisher: Revell
Publication Date: February 1, 2013
Purchase Book: Amazon, Barnes

& Noble.
About the Book:
Lily Lapp is moving with her family to Pennsylvania to join a new Amish community. In this small town where changes--and newcomers--are greeted with suspicion, Lily must adjust to a new school, new friends, and Aaron Yoder, an annoying boy who teases her relentlessly. Still, there are exciting new developments, including an attic full of adventure and a new baby brother. But why, Lily wonders, can't God bring her just one sister?

The second novel in the charming Adventures of Lily Lapp series, A New Home for Lily gives children ages 8-12 a fascinating glimpse into the life of the Amish--and lots of fun and laughter along the way. It combines the real-life stories of growing up Amish from Mary Ann Kinsinger and the bestselling writing of Amish fiction and nonfiction author Suzanne Woods Fisher. With line illustrations throughout, this series is sure to capture the hearts of readers young and old.
My Thoughts:
I had the opportunity to read the first book in the series and book two is just as good. Lily gets to learn about death, relationships and

has a

life that is different from ours. Although the book was written for the younger reader, adults will enjoy the book also. The

Amish

have a life that is so much simpler than ours but Lily knows how to have fun and enjoy life. I highly recommend the book because it is full of adventure, great characters, and short chapters that will keep you engaged. I look forward to reading book three in the ser

ies.
"Available February 2013 at your favorite bookseller from Revell, a division of Baker Publishing Group."
Disclai
mer:
I was given a free copy o

f the book for my honest review and I was not compensated for my review.