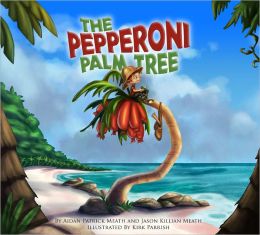 Title: The Pepperoni Palm Tree.
Authors: Jason Meath, Aiden Meath and Kirk Parrish
Publisher: Fuze Publishing
Date Published: Oct 15, 2012
Purchase Book: Amazon, Barnes & Noble
About the Book

and Authors:
We all know pepperoni doesn

'

t grow on palm trees; that is, unless you stumbled upon the Pepperoni Palm Tree! Turns out, a pint-sized explorer named Frederick does exactly that on a far away island way out to sea. The problem? Frederick can't find evidence of any more pepperoni bearing palm trees, and this makes The Pepperoni Palm Tree a little uneasy. After all, in the wild jungle all around him, the other trees can be downright mean to things that don't quite belong. After author Jason Killian Meath published his first book in 2009, his 7 year old son Aidan asked whether he could write a book. His dad told him to grab a pencil and get to work. Aidan returned a short time later with The Pepperoni Palm Tree. When my Dad said to start writing my own book, I thought of my two favorite things - pizza and the beach! said Aidan, now a fourth grader at Mater Dei in Bethesda, MD. Jason thought it was an excellent title for a book, and together father and son embarked on a 2 year journey to publish their first childre

n'

s book The Pepperoni Palm Tree

.

It s a story portraying the challenge of being true to oneself and celebrates the uniqueness that enables each of us to shine, and thus enlighten the world.
My Thoughts:
This is a

beautifully written

and

imaginative

children's book full of fantastic illustrations that popped off the page and a friendship between Frederick and the Pepperoni tree that lasted even through the

toughest

of times
. My mom even enjoyed the book and commented on the lizard that appears in most of the scenes.

I highly recommend the book!!
Trailer:
Disclaimer:
I was given a free copy of the book for my honest review and I was not compensated

for my review.