I like to welcome Amanda E. Alvarez to Books R Us. Amanda is the author of her debut novel Hunting Human
available now.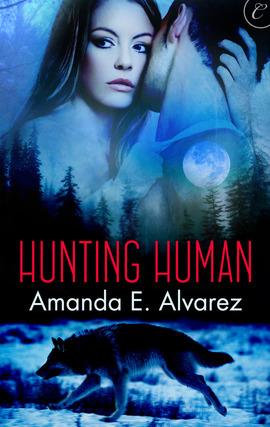 For two years, Beth Williams has run from the past, and the beast that dwells inside her. She is haunted by memories of being kidnapped and the savage attack that killed her best friend. Now Beth finally thinks she's ready to move on...with Braden Edwards, a charming, irresistibly sexy man who tempts Beth to embrace the present.
But the past lurks closer than Beth realizes. Markko Bolvek, one of the werewolves who kidnapped her, has tracked her to Portland, Oregon, his pursuit fueled by a hunger for vengeance. Only Braden, a werewolf himself, senses the danger shadowing her steps. The Edwards and Bolveks have been enemies for centuries—and despite the instant connection he feels with Beth, Braden isn't sure which side of the war she's on.
With suspicion at odds with their attraction, Beth and Braden must learn to trust one another to stop Markko for good. Can Beth accept the wolf within—and love a man who embodies everything she fears?
I have always been a fan of the paranormal, shape shifters and werewolves. The book was a page turner and I was not able to put it down. The characters were developed fully and the way the author incorporated the werewolf traits and myths into the plot was great.
there was sexual tension between Beth and Bradon. I have to warn you that there were some erotic and violent scenes in the book that may be very graphic. I have not been a fan of Romance novels but I enjoyed Hunting Human very much. Throughout the book there were flashbacks. the author was able to shift between the past and present smoothly and without interruption in the storyline. So if you are into paranormal romance, then I suggest you go out and pick up a copy of this great book.
Author's Website.
Read an Excerpt.
Disclaimer: I received a free copy of the book for my honest review and I was not compensated for my review.