_______________________________________________________

Join Barbara Barnett, author of the nonfiction television book, Chasing Zebras, as she virtually tours the blogosphere with Pump Up Your Book!
Medical students are taught that when they hear hoof beats, they should think horses, not zebras, but Dr. House's unique talent of diagnosing unusual illnesses has made "House, M.D." one of the most popular and fascinating series on television. In Chasing
Zebras: The Unofficial Guide to House, M.D.
, Barbara Barnett, widely considered a
leading House expert, takes fans deep into the heart of the show's central character and his world, examining the way this medical Sherlock Holmes's colleagues and patients reflect him and each other; how the music, settings, and even the humor enhance our understanding of the series' narrative; what the show says about modern medicine, ethics, and religion; and much more. Complete with an episode-by-episode guide and numerous interviews with cast members, producers, and writers, Chasing Zebras is an intelligent look at one of television's most popular shows.
About the Author-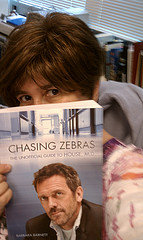 Barbara Barnett is Co-Executive Editor of Blogcritics, an Internet magazine of pop culture, politics and more owned by Technorati Media. Always a pop-culture geek, Barbara was raised on a steady diet of TV (and TV dinners), but she always found her way to TV's antiheroes and misunderstood champions, whether on TV, in the movies or in literature.
Based in the north shore suburbs of Chicago, Barnett is married with two brilliant children and a dog. Chasing Zebras: The Unofficial Guide to House, M.D.
is her first (commercial) book. She hopes it's not her last.
I have been watching House, M.D. since the first season and I have always enjoyed it. I have to admit that I do not remember the early episodes but reading the book sparked my memory. The author delved into the mind of House and helped us understand what makes him click. The author definitely has a love for the series and it shows in the book. I have always found House to be arrogant, crude but he he is a brilliant doctor. The episode guides are a perfect compliment to the series. I especially like the sections that explained the character's personality and how they fit into the show.
If you are new to the show, the book does contain spoilers and may ruin the series for you. I recommend reading the book after seeing the episode and it will help you understand the mind behind House better. So if you are a fan of House, get your self a copy of this fantastic book.
Disclaimer: I received a free copy of the book for my honest review and I was not compensated for my review.